As part of the Unified Community Platform project, this wiki and 38 others will be migrated to the new platform in the next few weeks. Minimal changes are expected as part of this migration. Read more here.
Deluge Orb
Deluge Orb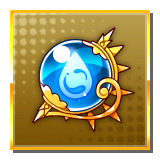 Description
A gem that pulses with the power of water.
Used to unbind the mana circles of adventurers and upgrade facilities.
Drop Rarity
Usage
Obtained From
Drop Locations
Craft Material For